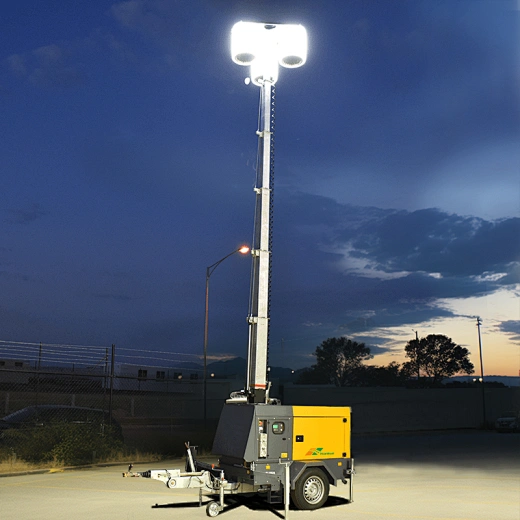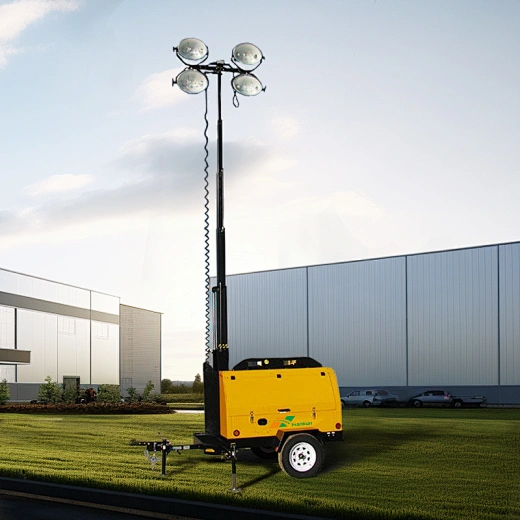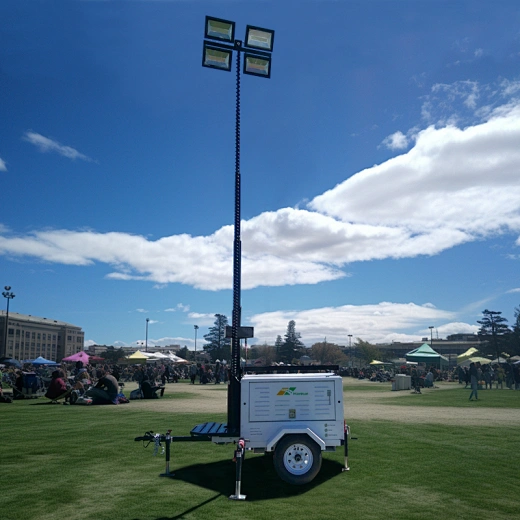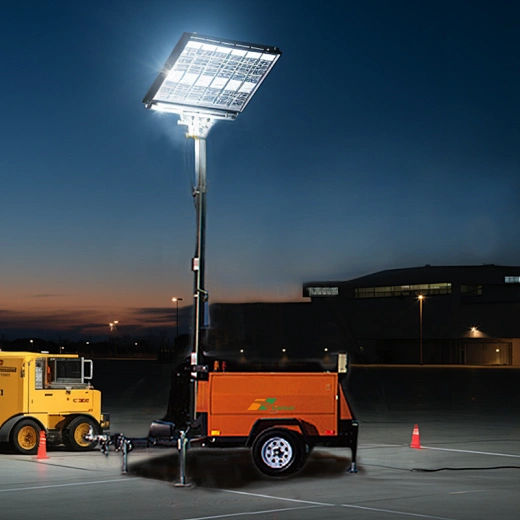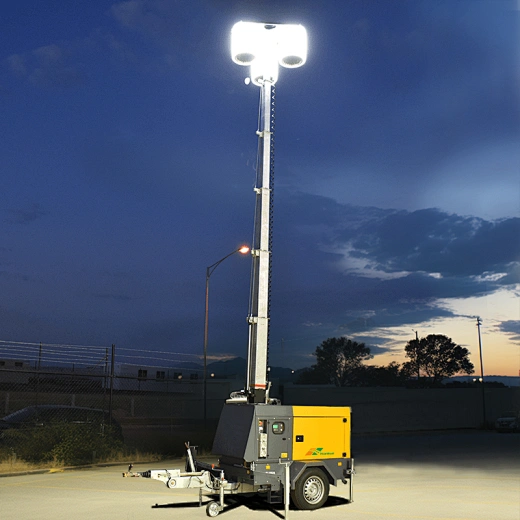 HK-MLT1500w
Mobile towers can go anywhere you need them. These mobile units are available in a variety of configurations and can be selected to meet a variety of needs. The tubular steel frame, powder-coated shell and wide body are designed to withstand the harshest conditions. This includes remote areas and rugged terrain. These vertical mast lighthouses come standard with electric or manual winches for easy deployment. Standard analog controls are easy to use and allow for light individual operation. We lead the industry with innovative and revolutionary lighthouse solutions. Our towers are easy to install, operate and maintain, providing maximum power with minimal footprint. With extended uptime and maintenance intervals, innovative engine technology, our products can be relied upon to maximize uptime and return on investment.
Lighting Options: Mobile light towers typically offer a choice between different lighting technologies, such as LED lights or metal halide lamps. LED lights are energy-efficient, provide bright illumination, and have a longer lifespan. Metal halide lamps offer powerful lighting but consume more energy.

Height and Coverage: Mobile light towers are designed to provide elevated lighting, typically with adjustable mast heights. This allows for better coverage and illumination over a larger area. The height can often be adjusted to meet specific requirements, ranging from a few meters to over 30 meters.

Power Sources: Mobile light towers are equipped with power sources to operate the lighting system and other integrated features. They commonly use diesel engines or generators to provide the necessary electrical power. Some models may also offer alternative power options, such as solar panels or battery packs, for eco-friendly and noiseless operation.

Durability and Weather Resistance: Mobile light towers are built to withstand challenging environments. They feature robust construction with materials like steel frames and powder-coated housings, ensuring strength and durability. Additionally, they are designed to withstand harsh weather conditions, including rain, wind, and extreme temperatures.

Easy Transportation and Deployment: These light towers are designed for mobility and ease of transportation. They often come with features like trailer-mounted or towable configurations, allowing them to be easily transported to different locations. Quick set-up mechanisms, such as electric or manual winches, facilitate efficient deployment and repositioning.

Control and Monitoring: Mobile light towers generally have integrated control panels that enable users to adjust lighting intensity, monitor fuel levels, and manage other functions. Some advanced models may also offer remote monitoring capabilities, allowing operators to control and monitor the light tower's performance from a distance.

Application Versatility: Mobile light towers are widely used in various industries and applications. They are commonly seen at construction sites, mining operations, outdoor events, emergency response situations, and maintenance projects. Their versatility allows them to provide reliable lighting solutions in diverse settings.
These are just some of the key aspects and features of mobile light towers. Depending on the specific model and manufacturer, additional functionalities and customization options may be available to cater to specific requirements and preferences.