2017 Shanghai Intelligent Transportation Exhibition Zhejiang Han Kun Technology Exhibition Style
author: Sam
2017-05-05
May 5-6, 2017 China Shanghai International Smart Transport Exhibition came to an end in Shanghai. As a brand company of intelligent transportation industry, Yiwu Han Kun technology can be described as shining pompous eyes of all visitors. Its products solar mobile traffic display, solar mobile traffic lights, VMS, radar speed screen and other series, with its leading edge industry design and the Internet concept of intelligence to attract foreign businessmen and colleagues stop.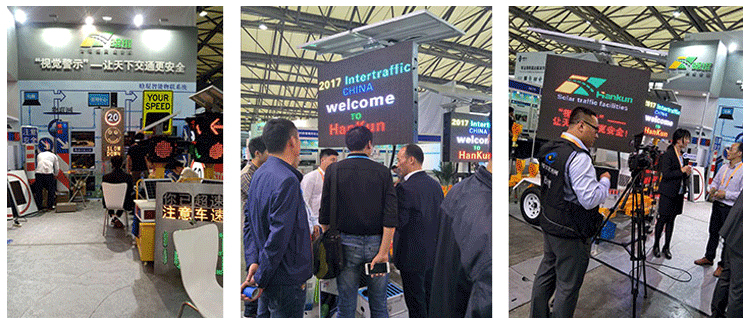 Han Kun Electronic Technology Co., Ltd. relies on things, smart, big data, the cloud real traffic products intelligent and controllable products.

Compared with other exhibitors, the Han Kun exhibition hall packed with inquiry and the spot ordering customers, the exhibition proud of three days results. Sam, the founder of the company, was satisfied with the achievements made during the interview with CCTV and believed that Han Kun's concept of "unswerving pursuit of perfection" will surely lead the company to new achievements.